Noble kinght, leader of the brave array

July 30, 2020, 7:38 pm
By Fr. Prabath Sanjeeva
Fernando, S.J. LEGEND IS BORN
Iñigo Lopez de Oñaz y Loyola, whom we know as St. Ignatius of Loyola, was the founder Father of the Society of Jesus, (in fact St. Ignatius preferred being called as the co-founder). Iñigo Lopez de Loyola, was chasing after military fame and fortune when a cannon ball arriving like a thunderbolt, shattered his leg and crushed his hope-filled dreams. The cannon ball not only broke his leg, but also his image as a handsome, dashing courtier, the vainglory that he had lived for; was shattered, too. It is aptly said, that sometimes, God lets you hit rock bottom, so that you will discover Him as the Rock, at the bottom. Since the bone was protruding after the operation, it exhibited an awkward appearance as he walked. He could not tolerate such a black marked stain on the spotless veneer of his esteem. Thus, Iñigo insisted on having the leg re-broken and re-set; even without anesthetic. At times, isn't it true, that in life, no matter how hard we try to fix certain idiosyncrasies imposing our own will, they would nevertheless remain the same or get even worse! The similar fate occurred in the life of our saint. In the end, one leg was still shorter than the other. Therefore, Iñigo had to limp for the rest of his life.
During the time of his convalescence, Ignatius loved to read romantic novels and daydream of a princess who would be his own. However, the next chapter of life had its own U-turn. In the rest home, the only available books were the Life of Christ and the Lives of the Saints. Bored and tired, he resorted to these tomes for an adventurous escape. Providentially, these books in turn offered Ignatius a new set of eyes and a unique perspective in following the Prince of Peace, Jesus and the Queen of the Church, the Blessed Virgin Mary. This paradigmatic shift, certainly, I would say, brought this boisterous young man closer to Mary and God. It made a lasting and an indelible impression in his life, so much so that Ignatius made a pilgrimage to the shrine of Blessed Mother Mary, at Montserrat near Barcelona. He remained almost a year at nearby Manresa, in a pauper's hospice, often in a dingy cave in the hills, praying. After a period of great peace of mind, he went through a harrowing trial of scruples, prayer, fasting, sacraments and penance. In fact, this going through paved a way to a growing through experience in the Lord; And so was born a legend.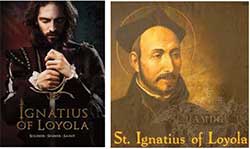 Ignatius preferred to be called the 'Pilgrim'. At La-Storta, a little town outside of Rome, when the pilgrim and the companions stopped to pray at a small chapel, he had a vision of Jesus carrying the cross with the Father at his side. Jesus said to Ignatius, "I wish you to serve us." Then, the Father added, "I will be propitious to you in Rome". When in Rome, the Society of Jesus was approved by Pope Paul III in 1540 and thus became an official Catholic religious order. Following this, Ignatius was then elected their first leader (General) wherein he vehemently declined the election for he did not want to fall into the same temptation of the vanity of vanities. Yet, later on, as the rest of the companions insisted, Ignatius agreed upon serving God as the General of the newly-founded Society of Jesus. The apparent distinction was, in contrast to the ambitions of his early days, the fundamental option of the newly-born Ignatius was that we must desire and choose only that which fulfills the end for which we are created – that is to praise, reverence, and serve God through serving other human beings. Ignatius was exceedingly driven by the ardent desire to do everything for the 'Greater Glory of God'. So much so he prayed:
"Teach us, good Lord, to serve you as you deserve;
to give, and not to count the cost,
to fight, and not to heed the wounds,
to toil, and not to seek for rest,
to labor, and not to ask for reward,
except that of knowing that we are doing your will".
Ignatius was a soldier-sinner who turned out to be a mystic-saint. He was a broken legged soldier who in recognizing his sinful past allowed God to mould him to become a contemplative in action. A sickbed conversion changed his entire life, but not without an uphill journey. Perseverance in prayer and total trust in God pulled St. Ignatius out of the darkness that was trying to consume him. There are so many things that could be said of St. Ignatius' life, especially of how he allowed God to show him who he could become, which was much more than what he thought he could ever be. Ignatius experienced wholly the true meaning of "unconditional" in the commonly known phrase - "God's Unconditional Love." Once liberated, he continued to seek out ways and means so that he could share this profound gift and experience, one that I feel is very much needed in our world of today.
LEGACY, ON-GOING
The pilgrim saintly character of St. Ignatius provokes us to commence the journey of faith, by trying to become saints while we are still alive. Understandably, it is a gift that is given, but on the other hand, it also has to be asked and strived for. This journey is quite arduous, for it requires, our radical following of Christ. The clarion call is to live lives of authenticity, purpose driven, and rooted in faith. The saintly life of Ignatius challenges us not to be just the followers but rather to become the leaders, the founders. Hence, we are becoming founders of our true self, our real humanity and becoming who we are created to be every day, by our actions and words. It has been said, don't follow if your following makes you timid, complacent and average. Therefore, legacy is something daring, life-changing and long-lasting. It goes on and on. It continues to urge us to imbibe the very dynamism that navigated the founder himself. When we tap that source, the river of life begins to flow into our lives and palpably that spirit of the founder is freely available, even today. That power source is active and alive right where we are, waiting to make us enspirited bodies and embodied Spirits.
Ignatius' strength is derived from the in-depth and personal experience of Jesus and he in turn offers us the Spiritual Exercises to make that inward journey to Jesus the Master and be His apprentice. We need to let our hearts to be pierced and broken so that genuine conversion can be realized. We need to break free of our comfy shells so that the aura of transformation envelops us. Our legs may not be shattered by a cannon but we can certainly become wounded-healers; broken-healers, today.
The followers who become the founders today, would have the fire of His Unconditional Love to go set the world aflame. It is aptly said that 'if you want to be useful to others, reform the world and renew the society, begin by taking pains with yourself. The fire that is to enkindle others, should be lighted at home first'. We need to conquer ourselves in our sincere attempts to help souls to attain the end for which they are created. 'Every saint has a sinful past and every sinner has a saintly future'; This statement apparently being credited to Oscar Wilde can only be actualized, if now in the present, we have the wisdom to know the difference. Such a difference can only be understood if one is truly mindful and loving.
At present, the one towering personality that heeded the call and rose to the occasion is the Holy Father, Pope Francis. The founder of the renewal of the Church, who evidently is charged with the grandeur, the fire of God's love. It is unmistakable in his life style, homilies and of the motto. 'God, seen through the eyes of Mercy, has chosen me. Pope Francis has been tremendously creative in his approach and yet, he has been extremely faithful to the life-line of the Church's teachings. We can all adopt this notion of creative-fidelity as a viable support in our lives. We all need that spiritual power generator more than ever. We need the compassionate gaze of the Lord, which shatters our stony-hearts and makes us leaders of the brave array, the founding members of His Reign here on earth. The founders with broken, perhaps shattered yet brave hearts. Thus, to be founders, leaders and saints is not restricted or constrained yet it is freely available and accessible to anyone who wishes to take a stand and be a way-maker and path-finder. We are always invited to let another legend to be born in our own-selves and to continue the legacy of the noble knight. Possibly, the following lines uttered by Pope Francis would give us a clue. "To be saints is not a privilege for the few but a vocation for everyone".
A blessed Feast of St. Ignatius of Loyola!
(The writer is the 'National Director' for Pope's World-wide Prayer Network & Eucharistic Youth Movement in Sri Lanka. He can be contacted: sanjsj@gmail.com)
Hits: 1397
Send to Friend
Breaking News
Last Updated Jul 30 2020 | 10:15 pm
...