SLID sets sights on international network to enrich training of future corporate directors
July 30, 2020, 7:15 pm
by Sanath Nanayakkare
The Sri Lanka Institute of Directors (SLID), cementing a relationship with Institutes of Directors (IODs) of India, Singapore and Malaysia and building good contacts and rapport with IODs of the United Kingdom and Australia, is planning to give more from its popular Board Leadership Training Programme to future corporate leaders in Sri Lanka.
SLID Chairman A.R Rasiah made this observation at Cinnamon Lakeside, Colombo on Wednesday at the SLID Annual Membership Meeting (AMM) held with full in-person attendance, ensuring adherence to the guidelines set out by the health authorities.
The 8th AMM unanimously re-elected all office-bearers including Council Members to represent the interests of the Institute and achieve its desired outcomes amid unprecedented challenges in the year ahead.
Many high-profile corporate leaders, directors and professionals attended the event where Fabrice Cavallin, Managing Director of Nestle Lanka was the chief guest.
The AMM re-elected office bearers- A. R Rasiah, Chairman, M.O.F. Salieh, Senior Vice Chairman, Ms. Aroshi Nanayakkara, Vice Chairperson, M. P. Jayawardena, Immediate Past Chairman and Council Members – D. Rodrigo, Ms. N. Tambiah, R Abeysuriya, Vish Govindasamy, Prakash Schaffter, Dinesh Weerakkody and Ms. Aruni Rajakarier and Secretariat/ Secretary to the Council Ms. Radika Obeyesekere -CEO.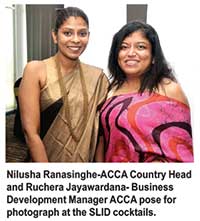 Speaking on the plans ahead Rasiah said: "SLID is now updating its popular Board Leadership Training Programme by revamping to take into consideration the modern changes and the "new norm" in the corporate world. I thank the IFC for its support and assistance given to us. SLID is now trying to build a regional relationship with IODs of India, Singapore and Malaysia while making good contacts and rapport with IODs of United Kingdom and Australia. Integration of global insights from these IODs will enrich our Board Leadership Training Programmes".
"SLID from its humble beginnings has grown to be in stature and recognition in Sri Lanka today. The very fact there were many organisations willing to partner SLID in many ventures and the excellent response from members to be co-opted into various sub committees was certainly proof of the contribution SLID has been making. The theme of propagating Corporate Governance and training the potential and current directors were the main goals which have been carried out very well. SLID team travelled outstations regularly with the support of the local chambers to conduct seminars to promote Corporate Governance. However due to the current Covid-19 situation, this has been somewhat hampered. However the Secretariat, headed by new CEO, Ms Radika Obeyesekere was very active and conducted five webinars on important topics during the curfew period which were very well attended. Key sub committee forums; namely the audit forum headed by Suren Rajakarier, the Independent directors forum (INED) headed by Faizal Salieh and the recently formed Women Directors forum headed by Ms. Aroshi Nanayakkara have been active all along".
Fabrice Cavallin Managing Director of Nestle Lanka illustrating his presentation with a video clip explained how Nestle Lanka dealt with the challenges during the Covid-19 situation and how the company empowered its staff by giving them visible leadership from the front, to identify and make the best of the new opportunities that arose with it.
Notably the SLID AMM approved by resolution, to ensure that women make up 25% of its Council Members.
Hits: 707
Send to Friend
Breaking News
Last Updated Jul 30 2020 | 10:15 pm
...